David Chase Taylor
April 15, 2014
Truther.org
SWITZERLAND, Zurich — Based on breaking news and events, it appears that international intelligence agencies will once again attempt to execute a massive cyber-attack against Wall Street and the U.S. banking system. Although a finance-related cyber-attack could occur at any time, it will most likely transpire prior to June 1, 2014.
Although a cyber-attack on Wall Street could manifest itself any number of different ways, a so-called "high frequency trading" (HFT) type of attack is the most likely. A future scenario in which the stock market is hacked or hoaxed so that the computers (which do 90% of the trading) induce a digital sell-off appears to be part of the working Wall Street cyber-terror script.
READ: Wall Street Banking Cyber-Heist to Transfer Billions to Bitcoin
In what appears to be a pre-HFT terror warning, it was reported on April 3, 2014, that discount trader Charles Schwab & Co. issued a statement in respect to HFT which read: "High-frequency traders are gaming the system, reaping billions in the process and undermining investor confidence in the fairness of the markets. It's a growing cancer and needs to be addressed".
In order to gain plausible deniability prior to an unprecedented HFT cyber-attack in which trillions of dollars are lost, the European Parliament voted to curb high-frequency trading, on April 14, 2014, although the measures will only take effect 2.5 years after they are adopted. In other words, the EU vote against HFT is more for show more than anything as it will do nothing to stop the impending HFT cyber-attack.
READ: ATM Cyber-Terror Bank Heist Planned for 2014
In a report entitled "Hackers Set Sights on Market Mayhem", it was revealed that Anonymous took credit for a hack inducted HFT sell-off which resulted in a 6% slide in the share price of Sony (SNE) after a cyber-attack on the PlayStation Network. Interestingly, on April 10, 2014, it was reported that the FBI has arrested 3 suspects for hacking Microsoft Xbox, ultimately invoking the notion of the 2011 Sony attack just prior to another hack-induced HFT sell-off.
The notion that thieves are actively attempting to heist trillions of dollars was witnessed on March 30, 2014, when "con men" were stopped from entering Vatican Bank with €3 trillion of fake bonds. The staged incident was evidently executed in order to set the precedent for an unprecedented cyber-attack in which trillions of dollars are instantaneously hijacked.
READ: 9/11-Style Terror Attack on Dallas FED Building Foiled
Although a HFT cyber-attack could be scapegoated onto China, Iran or Russia, the state-sponsored cyber-terror group known as Anonymous will likely be implicated. Because Anonymous does not have a country, no one can be invaded in retaliation. In other words, the intelligence agencies behind the Wall Street cyber-heist can escape will trillions and never be brought to justice.
Predictably, it was revealed on April 2, 2014, that Anonymous hacked the Albuquerque police department, an incident designed to show that they are above the law and untouchable. Four days later on April 6, 2014, Anonymous in Israel reportedly called for massive cyber-attack, a curious notion considering that the apartheid state of Israel is the world's #1 state-sponsor of cyber-related terror who are responsible in part for most of the world's deadliest computer viruses (e.g., Stuxnet, Flame, and Duqu)
Prolexic HFT Cyber-Attack Warning
In what appears to be the pre-High Frequency Trading attack warning, Fox Business published a report on February 6, 2014, entitled "Hackers Set Sights on Market Mayhem" which curiously featured a photo of the Guy Fawkes-Anonymous mask. Among other things, the report stated that "today's cyber evildoers also want to mess with investors", citing a report from the cyber-security firm Prolexic which warned that "hackers are deploying distributed denial-of-service (DDoS) attacks in an attempt to manipulate stock prices or even cause market mayhem". "We have uncovered a disturbing trend: Many of these malicious attacks appear to be intent on lowering the target's stock price or currency values, or even temporarily preventing trades from taking place," Stuart Scholly, president of Prolexic, said in a statement. Prolexic also said that it found a "causal relationship between cyber-attacks and a change in the valuation of a company in a given market." The report then speculated that "a cartel of cyber criminals or even an individual hacker could capitalize on a selloff in a hacking target's share price by placing bearish bets, called short positions".
READ: Federal Reserve Bank False-Flag Terror Threat Assessment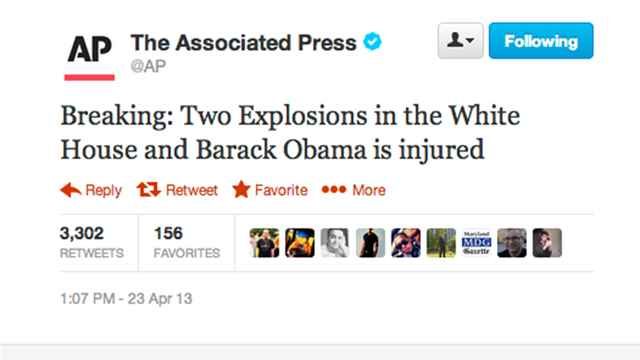 Hack Induced HFT Sell-Off
Back on April 23, 2013, the Twitter feed of the Associated Press stated that Barack Obama had been injured in an explosion at the White House. The fake tweet, which was allegedly the result of a hack, spread like wildfire over the internet, garnering more than 4,000 retweets. Although the AP quickly addressed the situation, the tweet sent shock waves through the stock market, wiping out $130 billion in stock value in a matter of seconds. The notion of a fake or staged market glitch, flash or hack occurred twice before and will likely happen again (e.g., the  2010 "Flash Crash" and the Knight Capital Management Crisis of 2013 in which a computer glitch cost the firm $440 million and nearly sent it into bankruptcy) Coincidentally, on April 13, 2014, a 14-year old girl reportedly sent a "terroristic tweet" to American Airlines which allegedly ended with her arrest. The incident, which was likely staged, ultimately invoked the fake Obama assassination tweet and has set the precedent for another fake terror tweet, possibly targeting Wall Street. A day later on April 14, 2014, US Airways apologizes for a lewd photo which was sent via Twitter, further highlighting the notion of a rogue tweet.
READ: Bank of America: False-Flag Terror Threat Assessment
"Heartbleed" Cyber-Bug
In what appears to be the "cyber loophole" that will allow for a major Wall Street HFT cyber-attack, it was reported on April 9, 2014, millions of passwords are now vulnerable due to a security flaw entitled the "Heartbleed Bug". According to reports, the Heartbleed bug has exposed millions of passwords, credit card numbers and other sensitive bits of information to potential theft by hackers who may have been "secretly exploiting the problem before its discovery". Predictably, on April 11, 2014, the U.S. federal government issued a dire warning that hackers are trying to exploit Heartbleed bug. According to the report, the U.S. Department of Homeland Security stated that hackers were attempting to exploit the bug in widely used OpenSSL code by scanning targeted networks. Federal regulators also advised financial institutions to patch and test their systems to make sure they are safe. Corporations including Cisco, IBM, Intel, Juniper and Oracle have now warned their customers "they may be at risk". A consortium of regulators including the Federal Reserve and the Treasury Department suggested that banks consider replacing those certificates and keys. "Financial institutions should operate with the assumption that encryption keys used on vulnerable servers are no longer viable for protecting sensitive information and should therefore strongly consider requiring users and administrators to change passwords after applying the OpenSSL patch". A day later on April 12, 2014, it was reported that millions of Android devices are now vulnerable to the Heartbleed bug, presenting a situation whereby hackers could access trader's cell phone on which a majority of high frequency trading is conducted. Two days later on April 14, 2014, it was revealed that tax data in Canada was stolen in a Heartbleed breach, ultimately confirming that Heartbleed is capable of attack financial-related systems.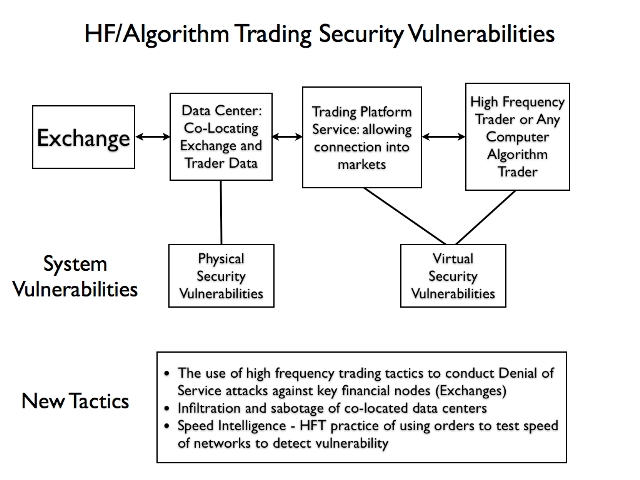 Banking "Suicides"
In order to psychologically program the world for the impending financial collapse of America, at least 19 bankers have died, most under highly suspicious circumstances. Whether or not these finance-related people died of natural causes is irrelevant for their deaths have created an ongoing media narrative which suggests that the banking sector is unstable, vulnerable, and on the verge of collapse.
2013-2014 Banking Deaths:
1. August 19, 2013: Moritz Erhardt: Bank of America (London, England)
2. August 26, 2013: Pierre Wauthier: Zurich Insurance Group AG (Zurich, Switzerland)
3. December 23, 2013: Robert Wilson: Hedge Fund Manager (New York, New York)
4. January 19, 2014: Tim Dickenson: Swiss Re AG (United Kingdom)
5. January 28, 2014: William 'Bill' Broeksmit: Deutsche Bank (Kensington, England)
6. January 28, 2014: Gabriel Magee: JPMorgan Chase (London, England)
7. January 30, 2014: Mike Dueker: Russell Investments (Tacoma, Washington)
8. February 3, 2014: Ryan Crane: JPMorgan Chase (Stamford, Connecticut)
9. February 7, 2014: Richard M. Talley: American Title Services (Greenwood Village, Colorado)
10. February 18, 2014: Li Junjie: JPMorgan Chase (Hong Kong, China)
11. February 28, 2014: Autumn Radtke: BitCoin (Singapore)
12. March 11, 2014: Edmund "Eddie" Reilly: Vertical Group (New York, New York)
13. March 12, 2014: Kenneth Bellando: JPMorgan-Levy Capital (New York, New York)
14. March 12, 2014: Jon Corzine: Goldman Sachs-MF Global (Mexico City, Mexico)
15. April 1, 2014: Charles H. Keating:  Lincoln Savings and Loan (Phoenix, Arizona)
17. April 5, 2014: Jan Peter Schmittmann: ABN AMRO (Laren, Netherlands)
18. April 14, 2014: Juergen Frick: Bank Frick (Liechtenstein)
19. April 14, 2014: Juergen Hermann: Fund Manager (Liechtenstein)
[Does not purport to be a complete list of finance-related deaths]
Market Crash Warnings
Prior to a high-profile stock market crash, the American public must be psychologically prepared to accept that this is in fact possible. Fraudulent headlines and fabricated events are a slick way of convincing people that yes, it can happen. Starting in March of 2014, there have been an unprecedented amount of headlines which have been predicting Wall Street's doom. For example, on March 30, 2014, USA Today published a report entitled, "Warning Signs are Flashing on Wall Street", which coincidentally included the term "flash" to invoke the notion of a "flash trading". Less than a week later on April 2, 2014, USA Today published a rather curious headlines entitled, "Is a 1987-Type Market Crash 37 Days Away?, suggesting that a stock market crash is likely prior to May 9, 2014. Roughly a week later on April 10, 2014, CNBC published a report entitled, "2014 Crash will be Worse than 1987′s: Marc Faber", ultimately confirming that a 2014 stock market crash is planned. Needless to say, these headlines (of which there are hundreds) suggest that a state-sponsored Wall Street crash is imminent.
U.S. Vulnerable to Cyber Attack
Prior to major cyber-attack on America's financial system, the public must believe that the U.S. government is highly vulnerable to a cyber-attack. Aside from the fact that hackers reportedly crashed Federal Election Commission website on December 19, 2013, recent reports in respect to cyber-security (or lack thereof) suggests that cyber-attacks against U.S. governmental institutions are imminent. For example, on February 4, 2014, it was revealed that a U.S. Senate report found that federal agencies often fail to take basic preventive cyber-security measures. That same day, it was also reported that "password" is the password on many U.S. government computer accounts, furthering the notion that feds are an easy target for hackers. A day later on February 5, 2014, a U.S. government report found that 4 in 10 government security breaches go undetected, suggesting that cyber-attacks are much more prevalent than originally thought. Most recently on March 16, 2014, the Ukrainian CyberBerkut terror group allegedly took down NATO websites, another clear sign that the West is vulnerable to a cyber-attack. After all, if NATO can be hacked, so too can Wall Street. Most recently, on March 17, 2014, it was reported that one-tenth of U.S. government computers will come under an increased threat of hack after April 8, 2014, an ominous sign that a cyber-attack on the U.S. government is imminent.
"Quantum Dawn 2" Cyber-Attack Drill (June 2013)
Prior to a major cyber-terror attack on the New York Stock Exchange (NYSE), one would expect there to be some stock-market related terror drills to prepare Wall Street insiders for the attack. Coincidentally, on June 13th, 2013, it was reported that Wall Street executed "Quantum Dawn 2", a cyber-terror war-game apparently meant to give insiders an opportunity to make financial moves before the market crashes—for good. According to the report, Cyber Strategies oversaw a terror exercise which included Citigroup, Bank of America, the Department of Homeland Security, the Treasury Department, the Federal Reserve, the Securities and Exchange Commission, as well as 40 other firms. The drill, which featured a hacker, possibly from China, operating from a fake trading platform, prompted a response in which the participants facilitated a conference call to "figure out what was going on". In other words, the drill simulated a real-life scenario in which insider firms received the "heads up" about an impending cyber-attack and subsequently shared this information accordingly so that their bank accounts and those of their clients would not be affected. The same sort of thing occurred just prior to 9/11 when "put options" or bets were taken out on United Airlines and American Airlines, the two airline companies involved in the attacks. According to the "9/11 Commission Report", "some unusual trading did in fact occur", however, it claimed that, "each such trade proved to have an innocuous explanation".
"Quantum Dawn 2" Fallout (September, 2013)
In the October 23, 2013, Fox Business report entitled "'White Hat' Hackers Expose Flaws of U.S. Stock Market", the details of "Quantum Dawn 2"  cyber-attack exercise were revealed. According to the report, ethical "white hat" hackers intentionally "looking to expose the cyber vulnerabilities of U.S. equity markets", were able to directly impact market performance by "forcing a mock market close". According to the report, more than 50 entities and 500 people in the financial services sector participated in the cyber-attack which was executed by the Securities Industry and Financial Markets Association (SIFMA) on July 18, 2013. So called "ethical hackers" were told to give everything they had to try and cripple the U.S. stock market during the 6-hour exercise. "Quantum Dawn 2 demonstrated the industry's resiliency when faced with serious cyber-attacks that aimed to steal money, crash systems and disrupt equity market trading," SIFMA CEO Judd Gregg stated. According to Cedric Leighton, a former U.S. intelligence officer, "The more realistic the exercise the better prepared they'll be if and when attacks from a cyber standpoint occur".
FLASHBACK: "Black Friday" Cyber-Attack
In yet another example of how state-sponsored terror drills always precede real-life terror events, on November 27, 2013, Truther.org published a report entitled, "Black Friday-Cyber Monday 2013 (SSTTA): NATO Executing "Largest Ever" Cyber-Terror Drill on Black Friday—Attack Imminent". As revealed in the report, NATO was executing their largest cyber-terror drill ever and therefore the likelihood of state-sponsored cyber terror was extremely high. Predictably, it was later revealed that a major cyber-attack did in fact take place on "Black Friday" and that up to 40 million Target shoppers had their credit card information compromised. According to Brian Krebs, a journalist who specializes in computer security, the Target computer breach occurred on or around Black Friday, the busiest shopping day of the year. Evidently, the "Black Friday" cyber-attack was executed in order to set the precedent for greater acts of bank-related state-sponsored cyber-terror, namely an attack on U.S. stock markets and banks.

Wall Street Crash Propaganda
"Wall Street" (1987) was a film (see trailer) about the criminality and illegality of Wall Street which was released on December 11, 1987, just 2 months after the stock market crash of October 19, 1987. Coincidentally, "The Wolf of Wall Street" (2013) is a film (see trailer) about the corrupt nature of Wall Street starring  Leonardo DiCaprio which will released on DVD on March 25, 2014, just in time for the big crash. Wall Street propaganda films are released just prior to a major stock market crash in order to demonize real investors. This is done by swaying public opinion against investors so that a real investigation into the root cause of the crash will not gain any public support. By making the stock market look like a joke and a racket, it delegitimizes the millions of Americans who will lose their pensions, properties, and investments in the market.
About the Author
David Chase Taylor is an American journalist and the editor-in-chief of Truther.org. Taylor currently lives in Zürich, Switzerland where he has applied for political asylum after the release of The Nuclear Bible, a book credited with foiling a state-sponsored nuclear terror attack upon Super Bowl XLV in Dallas, Texas on February 6, 2011. Taylor has also authored The Bio-Terror Bible, a book and website exposing the global bio-terror pandemic planned for 2014. To date, David Chase Taylor has blown the whistle on over 100 state-sponsored terror plots, including the man-made comet ISON hoax and the drone strike on "Fast and Furious" star Paul Walker. Taylor was also the first to expose Alex Jones' treacherous links to STRATFOR.
Truther.org Legal Disclaimer
Truther.org's stated purpose is to stop terrorism by drawing unwanted global attention to terror plots prior to their fruition. Terror alerts and warnings made by Truther.org DO NOT necessarily imply that these terror events will transpire in reality but rather that there is a distinct possibility that they may occur based on breaking terror-related news, events and data. Historically speaking, once a false-flag terror plot is exposed (e.g., 2011 Super Bowl Nuclear Terror Plot), it is immediately canceled or postponed (e.g., 2014 Super Bowl Nuclear Terror Plot). State-sponsored acts of terror must have a prior paper trail in order to set-up patsies, prime scapegoats, create plausible deniability, as well as mislead the public from the usual suspects of terror. Please support real citizen journalism and help make terrorism a thing of the past. Blessed are the Peacemakers. Namaste