David Chase Taylor
March 31, 2014
Truther.org

SWITZERLAND, Zurich — As previously forecasted by Truther.org, a military drone purporting to be Malaysian Airlines Flight MH 370 will be loaded up with a nuclear bomb and used in a 9/11-style nuclear terror attack against America. Like the alleged hijacking of Flight 370, the kamikaze nuclear attack will most likely be scapegoated onto the country of Iran with the goal of starting World War III.
Although a nuclear terror attack using Flight 370 could transpire anywhere within the United States, the U.S. Capitol building in Washington, D.C. and the Freedom Tower (i.e., One World Trade Center) in New York City are the most likely targets. In the aftermath of the attack, martial law will be enacted by President Barack Obama who will subsequently suspend the U.S. Constitution and declare himself dictator.
Speaking from the 2014 Nuclear Security Summit in the Hague, Netherlands on March 25, 2014, Obama foreshadowed an impending nuclear attack when he stated, "…the number one national security threat to the United States [is] the prospect of a nuclear weapon going off in Manhattan". While at the Nuclear Summit, Obama helped plan an interactive "nukes on the loose" war game designed to see how the world would cope with a terrorist nuclear attack.
The plot to use Flight 370 as the vehicle by which to execute an Iranian "Nuclear 9/11" in the U.S. was identified only 4 days after the false-flag Iranian nuclear attack on New York City during Super Bowl XLVIII was exposed and foiled by Truther.org on February 1, 2014. Since then, international intelligence agencies started disseminating the required "hijack" programming which ultimately commenced with the purported hijacking of Flight 370 on March 8, 2014.
Although news reports state that Flight 370's mysterious disappearance was an "act of piracy", that a hijacking is "conclusive", and that "deliberate action" caused the Boeing 777 to vanish, a growing amount of evidence suggests that Malaysian Airlines Flight MH 370 was itself an epic hoax because it never existed. In other words, the flight, the plane, the crew, the passengers and the alleged hijacking were completely fabricated with the sole purpose of creating the necessary background narrative for an eventual Iranian nuclear strike on the U.S. using the missing plane.
In an ominous sign that a Flight 370 terror attack is imminent, it was reported on March 16, 2014, that the state of Israel is preparing for an attack from the hijacked plane. Since then, there has been a rash of "mystery plane"-like headlines and events which suggests that a Flight 370 attack is imminent. Back on September 27, 2001, just days after the 9/11 Attacks, then President George W. Bush stated that, "We will invest in new technology…to take over distressed aircraft and land it by remote control". Although this technology was not used to thwart the alleged hijacking of Flight 370, it will be used to execute a nuclear attack using a Boeing 777 drone.
Mystery Plane Headlines:
1. March 21, 2014: White Mystery Plane over California Capital Turns out to be FBI
2. March 23, 2014: Turkey shoots down Syrian plane it says violated air space
3. March 24, 2014: Fighter jets intercept plane that breached summit flight restriction
4. March 28, 2014: 'Mystery aircraft' over Texas draws speculation of real spy plane
5. March 29, 2014: Amazon tribesmen jab their spears as they see an airplane for the first time
[Does not purport to be a complete list of headlines or events]
One thing is for sure, evidence surrounding Flight 370 does not add up on any level. In this electronic day and age, it is impossible for a modern commercial airliner to simply vanish into thin air. No hijack warnings, no distress calls, no satellite images, no radar blips, no phone calls, no texts, no tweets, no nothing. It's as if Flight 370 never existed. Once the true motive behind the mysterious disappearance of Flight 370 is understood, then all the nonsense and propaganda surrounding the March 8, 2014 hijacking actually begins to make sense.
1. Premeditated Hijack Programming
Despite the fact that a high-profile hijacking had not occurred since the attacks of September 11, 2001 (13+ years ago), a barrage of airline terror alerts, attempted hijackings and hijackings occurred in the aftermath the attempted false-flag Iranian nuclear terror attack on New York City slated for February 2, 2014. Less than 72-hours after the Seattle Seahawks won the Super Bowl, the U.S. Department of Homeland Security issued a terror warning on February 5, 2014 in respect to "toothpaste tube bombs" on airliners, just 48-hours prior to winter games in Sochi. Two days later on February 7, 2014, the opening day of the 2014 Winter Olympics, a man was arrested for trying to hijack an airliner flying out of Turkey using a bomb threat. Less than 48-hours later on February 9, 2014, the U.S. embassy warned of an airline terror threat emanating out of Guyana in South America. Roughly a week later on February 17, 2014, a plane was hijacked by its pilot on route from Ethiopia to Rome, ultimately landing in Geneva, Switzerland. Aside from the 4 consecutive incidents of airline-related terror in the month of February, "Non-Stop" (2014) is a film (see trailer) about an FBI agent who hijacks a commercial jetliner which premiered in U.S. on February 28, 2014. As evidenced, these events have set the precedent for hijacking-related terror as they collectively prepared the world (especially during the Winter Olympics) for the alleged hijacking of Flight 370 on March 8, 2014.
2. Media Silence on Iran
Although American, British and Chinese Secret Service agencies along with MI6 and the CIA are allegedly investigating possible criminal involvement in the disappearance of  Flight 370, media outlets around the world have been curiously silent on evidence linking Iran to the alleged hijacking of Flight 370. Iran was first implicated in the disappearance of Flight 370 on March 10, 2014, when it was revealed that 2 stolen passports were used to board the missing plane in Malaysia. The passports were reportedly used with 2 tickets which were purchased by an Iranian man who: a) bought the tickets last-minute, b) paid cash, and c) only purchased one-way tickets—all red-flags for potential terrorism. That same day, it was also revealed that the fake-passport holders on Flight 370 were in fact Iranian citizens, further implicating Iran in foul play involving Flight 370. A day later on March 11, 2014, an Iranian lawmaker blamed the U.S. for the plane's disappearance, an ominous sign that Iran is in fact the Flight 370 hijacking scapegoat who is attempting to deny involvement prior to a Flight 370 terror attack. Despite all the evidence which suggests that Iranians hijacked Flight 370, intelligence officials declared on March 12, 2014, that there is no Iranian terror link in respect to the missing plane. Iranian nationals with one-way tickets who used stolen passports to board a plane which has since been hijacked and disappeared would normally be construed as terrorism, but not in this case. Evidently, the international intelligence agencies behind this terror plot want the Iranian nuclear attack using Flight 370 to be a shocking surprise. Therefore, it appears that a global media gag order in effect in respect to any evidence linking Iran to the disappearance of Flight 370. In the aftermath of 9/11-style nuclear terror attack on America, the aforementioned evidence will be cited by the U.S. Congress as hard evidence linking Iran to the March 8, 2014 hijacking of Flight 370.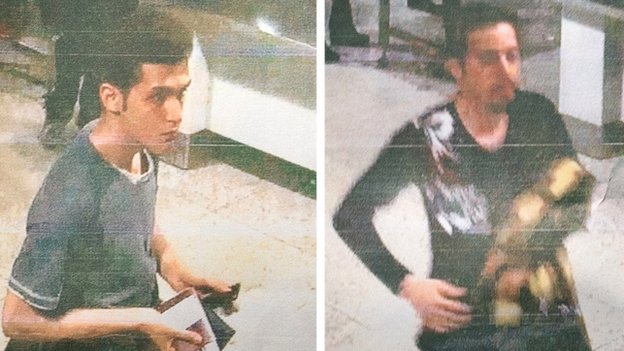 3. The Iranian Hijackers  
According to reports, two Iranian nationals used stolen passports from Austria and Italy to board Flight 370 in Malaysia on March 8, 2014. Despite the fact that their names did not appear on Flight 370's passenger manifest, the men's age, full name, nationality and photo were released to the media within 2 days of the alleged hijacking of Flight 370. In other words, authorities want the public to believe that they somehow figured out the correct identity of two mystery passengers in less than 48-hours despite not knowing anything about them. A more contrived investigation could not be found. Regardless, the first alleged hijacker was 29-year old Delavar Seyed Mohammad Reza, an Iranian national who was traveling with the stolen Italian passport of 37-year-old Maraldi Luigi. Although the flight was headed to China, Reza reportedly planned to seek asylum in Germany. The second alleged hijacker was 19-year old Pouria Nour Mohammad Mehrdad, an Iranian national who was traveling on a stolen Austrian passport belonging to a 30-year-old Christian Kozel. Mehrdad was reportedly trying to migrate to Germany where his mother lives. Although photos of Reza and Mehrdad holding passports in the airport have been released, there is no video showing either of the men boarding Flight 370 in Kuala Lumpur International Airport. In the event that these Iranian nationals passed through security, there would be a video of them just as there is of the alleged hijackers on 9/11.


4. Victim's Families AWOL
Although Flight 370's passenger manifest is comprised of 239 people from 14 countries (e.g., Australia, Canada, China, France, Hong Kong, India, Indonesia, Malaysia, Netherlands, New Zealand, Russia, Taiwan, Ukraine and the United States), the only family members portrayed in the media of those lost on Flight 370 are the ever-growing crowd of angry Chinese families and the brother of Philip Wood, an American who was allegedly on Flight 370. Families members from the other 13 countries represented on Flight 370 are mysteriously nowhere to be found. It's as if they do not exist. Even more suspicious, less than 5% of the victims have been identified with a photo. In the wake of an international tragedy, a collage of the victims is usually created (e.g., 9/11), but this is not the case with Flight 370. Aside from the aforementioned Iranian nationals, no security or personal videos or photos from March 8, 2014 have been released, a rather shocking fact considering that most everyone in today's society has a cell phone with a digital camera. Lastly, there is no airport video of Flight 370 taking off from Kuala Lumpur International Airport. Since all airport runways are videotaped 24/7, the lack of video footage further suggests that Flight 370 never existed.


5. No Military Detection
Despite the fact that U.S. Naval Support Facility (NSF) Diego Garcia is located just south of from Kuala Lumpur International Airport where Flight 370 originated, no American or NATO military jets or drones were scrambled when the plane's communication system was reportedly "disabled" an hour into its flight. Under normal circumstances, high-tech radar and satellites from nuclear nations such as China, Indian and the U.S. would have instantly picked up the wayward plane and dealt with it accordingly. However, despite all the military bases, naval ships, submarines, and airports in the region, the plane was never detected. Therefore, it can only be deduced that there was either a military stand-down conspiracy involving multiple nations in the region (e.g., Australia, Bangladesh, Cambodia, China, Cameroon India, Malaysia, Myanmar, Indonesia, Philippines, Sri Lanka, Vietnam, and the United States), or the Boeing 777 purporting to be Flight 370 was never existed. The fact that not one of the aforementioned countries issued a hijack alert or scrambled military aircraft suggests that a hijacking never occurred and that Flight 370 never existed in reality.

6. No Hijack Alert
The theory that Flight 370's communication system "was disabled before it disappeared" is a ridiculous notion considering that all modern planes like the Boeing 777 communicate with air traffic control, military satellites and Boeing itself, regardless of pilot inference. Nevertheless, once Flight 370's communication was "disabled", aviation officials would have known that something was wrong, yet no hijack alert was ever issued. In other words, unless Malaysian and Chinese officials were under orders not to issue a hijack alert, it's far more likely that Flight 370 never existed and therefore no hijack warning was ever issued.

7. No GPS Locator
Built in 2002, Flight 370 was a Boeing 777-200ER valued at $320 million. Like all modern transportation vehicles, it had built-in fail safe "On-Star"-like technology which relied on CDMA voice and data communication, as well as location information which employed state-of-the-art GPS technology. Realistically speaking, it would be impossible for any so-called "terrorist" to disable the GPS technology which was specifically designed to thwart hijackings by secretly conveying the location of the plane at all times. When all post-9/11 hijacking safety measures instituted by airlines, airline manufactures and the government simultaneously fail, it can be surmised that an elaborate conspiracy or hoax is in play. Despite an indestructible black box and an underwater locator beacon which is designed not only to survive accidents, but to function correctly after impact, authorities from 26 countries have failed to find the missing plane.

8. No Satellite Video
Considering that hundreds of "live" satellite feeds are used to forecast weather around the globe, it is simply impossible for there to be no video of footage of Flight 370. Since weather satellite data is stored for later use, theoretically speaking, investigators should be able to retrieve satellite surveillance of the missing plane, yet none has been released to date. Although Australian satellites, Chinese satellites,  French satellites, Thai satellites  and satellites from Airbus Defense and Space (the main European commercial satellite company) have been used in the search for missing Flight 370, none of them have produced any photos or videos from March 8, 2014. Evidently, the reason there is no satellite footage of Flight 370 is because it never existed in reality.

9. No Phone Calls
Back on September 11, 2001, United Airlines Flight 93's cockpit voice recorder revealed that crew and passengers tried to seize control of the plane from the hijackers after learning through phone calls that Flights 11, 77, and 175 had been crashed into the World Trade Center and Pentagon. Altogether, the passengers and crew made 35 airphone calls and two cell phone calls from the doomed flight prior to its demise. Since Flight 370 had 239 people on board, it can be conservatively estimated that there were at least 200 cell phones on board at the time of the alleged hijacking. Mobile phone technology has advanced to the point where on November 21, 2013, the FCC was even considering allowing cell phone calls on planes. Despite internet access and phone coverage, not one phone call, text or tweet was made from the hijacked place. Using 9/11-type logic, it can be theorized that some sort of communication would have been made.

10. Disinformation Campaign
In order to create the narrative that Flight 370 existed in reality, a number of propaganda reports have been disseminated in a coordinated manner to convince the public that the plane, her crew and the passengers were real. For example, a meteor was reported in the area around the time Flight 370 took off, a report aimed at confirming the takeoff time of Flight 370. In order to confirm that the pilots were real, reports that Flight 370 pilot Zaharie Ahmad Shad a "political activist" who allegedly received a mystery call just prior to take-off from a phone bought with a fake ID in Kuala Lumpur. The co-pilot Fariq Abdul Hamid allegedly met with CNN anchor Richard Quest in February of 2014 when he allegedly watched him land the plane under supervision of a senior pilot. In order to sell the notion that the Iranian hijackers were real, it was reported that they used fake-passports to board the plane. Lastly, in order to confirm the cargo, it was reported that Flight 370 was carrying highly flammable lithium batteries. Since none of these reports can be independently confirmed, they were released with the goal of convincing people that Flight 370 actually existed.

Conclusion  
Using conservative numbers, Truther.org has exposed over 100 state-sponsored terror plots in the last 2 years, most of which were to be executed by the Obama administration and the U.S. military. Therefore, the hijacking and subsequent disappearance of Flight 370 appears to be a desperate move by international intelligence agencies to ensure that a nuclear terror attack commences within the United States under President Obama. Because the location of Flight 370 remains a complete mystery, a terror attack using the plane can be launched almost instantaneously, without the patsy and media propaganda that generally precedes false-flag terror attacks. In other words, the hijacking of Flight 370 was executed with the sole purpose of committing a surprise terror attack that Truther.org and other terror whistleblowers cannot thwart.

About the Author
David Chase Taylor is an American journalist and the editor-in-chief of Truther.org. Taylor currently lives in Zürich, Switzerland where he has applied for political asylum after the release of The Nuclear Bible, a book credited with foiling a state-sponsored nuclear terror attack upon Super Bowl XLV in Dallas, Texas on February 6, 2011. Taylor has also authored The Bio-Terror Bible, a book and website exposing the global bio-terror pandemic planned for 2014. To date, David Chase Taylor has blown the whistle on over 100 state-sponsored terror plots, including the man-made comet ISON hoax and the drone strike on "Fast and Furious" star Paul Walker. Taylor was also the first to expose Alex Jones' treacherous links to STRATFOR.

Truther.org Legal Disclaimer
Truther.org's stated purpose is to stop terrorism by drawing unwanted global attention to terror plots prior to their fruition. Terror alerts and warnings made by Truther.org DO NOT necessarily imply that these terror events will transpire in reality but rather that there is a distinct possibility that they may occur based on breaking terror-related news, events and data. Historically speaking, once a false-flag terror plot is exposed (e.g., 2011 Super Bowl Nuclear Terror Plot), it is immediately canceled or postponed (e.g., 2014 Super Bowl Nuclear Terror Plot). State-sponsored acts of terror must have a prior paper trail in order to set-up patsies, prime scapegoats, create plausible deniability, as well as mislead the public from the usual suspects of terror. Please support real citizen journalism and help make terrorism a thing of the past. Blessed are the Peacemakers. Namaste